16/9/02
Second trailer! Yay! Go and download - the link will give you extensive links for pretty much any speed connection. It looks pretty darn good, though obviously still aimed at a pre-teen to teen audience, and the trailer is more of a slideshow of scenes this time.
12/9/02
The second CoS trailer will be broadcast on television Thursday night American time, so it should be downloadable by Friday or Saturday our time. I'll have the link once it starts popping up all over the place. Meanwhile, it seems that there is a short teaser already on the net, and the link to it can be found here.
10/9/02
The current American issue of Vanity Fair has an article on the upcoming CoS movie, and has some exclusive pictures. You can find them all linked here at The Leaky Cauldron.
7/9/02
New publicity pictures for the CoS movie are released on the Warner Bros. site; I found the links collected in this post at The Leaky Cauldron.
22/8/02
Posters for sale can be found here. They include new stills from the CoS movie, as well as montages for different characters (Harry, Ron, Dumbledore etc).
Also, I found this very amusing manipulated pic through someone's blog, but it originally came from Daniel Radcliffe Exposed (which is an innocent fan site with what I think is a rather unfortunate name).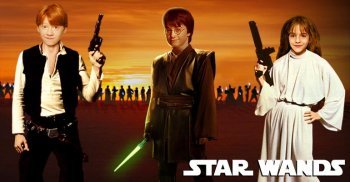 23/7/02
A new director has been chosen for the third HP movie, Harry Potter and the Prisoner of Azkaban: Alfonso Cuaron. Cuaron has adapted two other literary works for the screen before: A Little Princess by Frances Hodgson Burnett, and Great Expectations by Charles Dickens. His latest movie is Y Tu Mama Tambien (And Your Mother Too), a Mexican road-trip dramedy that has mostly been acclaimed for its raunchy scenes.
So far it appears that main trio of Dan Radcliffe, Rupert Grint and Emma Watson will be back to reprise their roles of Harry Potter, Ron Weasley and Hermione Granger respectively (puberty depending); Tom Felton should also return as Draco Malfoy. No word so far on who will play Professor Lupin. The third movie will not be coming out until 2004.
20/6/02
You can download the first full length trailer for the CoS movie here. My rickety 56K managed the high quality download in under an hour. But if you can't be bothered, you can get look at the scene-by-scene pictures. But you don't get to hear the audio, which is half the fun because you can see which boys have hit puberty and which ones haven't. ;)
17/6/02
First official pictures from the Harry Potter and the Chamber of Secrets (CoS) movie were printed in the American magazine Entertainment Weekly and reproduced online (as well as reprinted in Australia in Who Weekly).
Harry Potter
(actor: Daniel Radcliffe)
Draco Malfoy
(actor: Tom Felton)
Tom Riddle
(actor: Christian Coulson)
Pictures
Harry Potter: USA Today / Harry Potter and the Chamber of Icons / a HP posterbook / candy from strangers: harry
Draco Malfoy: candy from strangers: draco / The Unofficial Tom Felton Website / Icons by Krissy
Tom Riddle: Dapper Designs / candy from strangers: else / a fan site
Information
The Leaky Cauldron
A site where all and any Harry Potter related news is posted almost as soon as it is released somewhere, sent in by fans all over the world. Extremely dedicated and useful; pictures and information galore.
The Harry Potter Lexicon
For all the facts as researched from the HP books. Comprehensive, contributed to by many, and includes theories and essays written on aspects of the HP world.
DarkMark.com
Directed more to the movie fanbase, with games and interviews with the cast etc.